Welcome to the New Website!
This isn't going to be a long post, but I wanted to welcome you to my new website! It has taken a lot of hard work, research, and a lot of cursing along the way, but it is finally here. It might have seemed that all had gone quiet but trust me I was hard at work behind the scenes. If you've read my "review of 2019 and plans for 2020" post in April, you'll know this is something I've been planning for a while. And I am super happy to chalk it off the "to-do" list.
The biggest decision I had was whether to stay with WordPress or move to something like Squarespace. My WordPress knowledge has never been great so there was an attraction to move to something "simpler" such as Squarespace. Even more so when you see every other photographer on YouTube promoting it. But, having experimented with it on a 14-day trial I realised it offered nothing WordPress wasn't capable of. And in a lot of ways, Squarespace was far more restricted. The cost of Squarespace would also have pushed up the cost of running the site significantly. With that, I decided to double down on WordPress and brush up on my knowledge.
As a result, the whole site has had a new lick of paint, courtesy of a brand-new theme. I've wanted a cleaner look for a while but the previous theme I was using (Photocrati for those interested) didn't do this so well. This was more evident when compared to a lot of modern themes. It also seems as if the developer has given up on it judging by the lack of updates over the last 12 months. From an images point of view, these have been updated, including those in the gallery with more of my recent work. The blog has also had a refresh. Almost all my previous blog posts have been bought over and have had a rewrite. Hopefully this, as well as some layout changes, will make them clearer and easier to understand.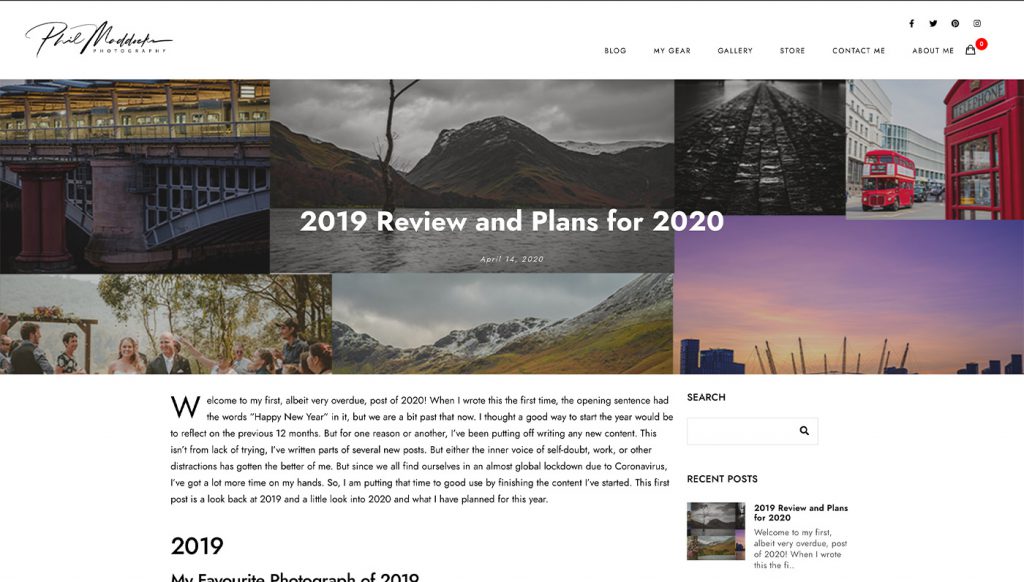 And lastly, I've finally set up a store to sell prints. This has been on my to-do list for well over 12 months and was one of the reasons I was considering SquareSpace. But as I learnt more about WordPress, I realised that it was far simpler to create a web store than I thought. Using WooCommerce I've been able to make 9 of my favourite photographs available for sale as fine art prints. Each of these is printed on Canson Baryta Fine Art photographic paper. This is 100% acid free museum grade paper. All prints also come with free international shipping.
That is about it in terms of what is new on the site. I am super happy with it and feel for the first time that I have something solid to build on. If you have any questions or have some thoughts on the new site, I'd love to hear from you. Please do leave a comment below or contact me directly.  
The blog is something I write in my spare time as a way of sharing my photography and what I am learning with the world. Unfortunately, running this blog isn't free but something I pay for. So, if you have enjoyed this content and have found it useful there are a number of ways that you can help support the blog. With your support I can keep producing content like this.
Amazon Affiliates – I am part of the Amazon Affiliates program which means if you follow my affiliate links and make purchases on Amazon, I made a small commission at no cost to you. If you need to purchase anything from Amazon, please use my links to Amazon UK and Amazon USA.
Buy a Print – I've made a small selection of my images available as prints which can be purchased here. Each print is produced on Fine Art photo paper and comes signed and numbered.
Make a Donation – If none of the above appeal to you, then you can make a small donation via PayPal here.