2020 Sucked! Here's to 2021
Happy New Year! I hope wherever you are you and your family are keeping safe and healthy. I want to say thank you to everyone who visited the site and supported my photography over the last 12 months. It means a lot and inspires me to keep writing and to keep taking photos.
As with last year's "End of Year" post, I'll share my favourite photographs and talk about my goals from 2020 and what I am planning for this year
.
What a strange year we've all had! Where to even start….I don't think anyone in their wildest dreams could have foresaw what we have all been through. I'm based in the UK and we are currently in our third national lockdown and it isn't getting any easier here. But there is light at the end of the tunnel with the Vaccine roll out. There is a lot of hope that life will begin to return to something that resembles normal by the middle of the year. 
On a personal note, the past year hasn't been all doom and gloom. Both my Fiancé and I have been lucky to have kept our jobs throughout the pandemic and for that we are grateful. We both know of people who have not been so lucky unfortunately.
It would have been nice to see our families more than we have, but we are grateful that everyone has stayed in good health
.
From a photography perspective, the lockdowns
certainly
made things challenging.
As I mentioned at the start of this post, we're now in our third national lockdown and this has meant travelling has been difficult if not impossible
. There were several nervy moments where we thought we'd need to cancel long standing trips. But,
thankfully
, they all fell between our national lockdowns. We were able to spend a week on the South Coast before driving to Kielder in July to yet again hunt down the Milky Way. September saw us drive to Loch Lomond in Scotland to spend some time away for our Birthdays. On these trips I was able to spend some time with the camera and captured some of my favourite photographs.
My Favourite Photographs of 2020
Out of all the photographs I took in 2020 I've narrowed it down to three absolute favourites from the past year: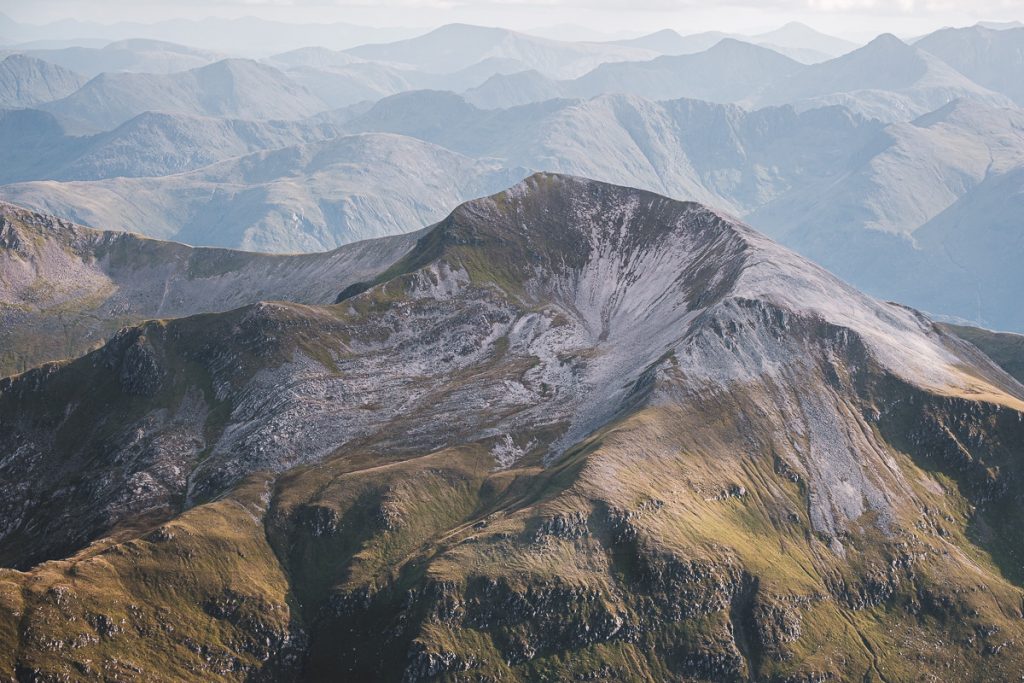 There is nothing like a hike up Ben Nevis let me tell you! From top to bottom it took us 5hr 15mins and over 17km walked. We decided to go up Ben Nevis on my Fiancé's birthday because it was one of the few days we were due good weather. And boy did it deliver. If you've been to Scotland before you'll already know it is notorious for its weather. On Ben Nevis in particular it is very rare to have clear skies at the summit (less than 14 days a year according to this article).
When we got to the top the views we had were incredible. We were able to see other mountains and fells for miles in all directions. Right opposite Ben Nevis is the mountain Sgurr a' Mhaim. What I noticed most about this mountain was the different textures in the rock, but also the layers of other fells in the background. Using the Fuji 55-200mm lens I was able to capture the detail of the mountain and compress all the mountains and fells in the distance.
Milky Way - Kielder Water
If you read my 2019 review post, you'll know that photographing the Milky Way at Kielder Water was one of my big goals of the year. Why at Kielder Water I hear you ask? Because this is the best place to see the Milky Way in the UK. Kielder is an International Dark Sky Park and home of the darkest skies anywhere In the UK. They also have a fantastic observatory. This was the third time we've visited Kielder over the last three years. But the first time we've had the right conditions to photograph the Milky Way.
I scouted the location for this photograph the year before while on a hike around the water. I knew as soon as the conditions were right, this is where I'd head. It was also my first chance to try out my newly purchased Samyang 12mm f2 lens. It's a manual focus wide-angle prime lens for the Fuji X-T3. With its small aperture and wide field of view, it is perfect for photographing the Milky Way. The photograph itself is a composite. It's made up of 1 photograph for the foreground and 25 photographs stacked together for the Milky Way. All photographs were taken at the same location.
Autumn Leaf - Greenwich Park
I'm definitely guilty of latching on to an Instagram trend with this image. It also probably explains why this was also my most liked photo of 2020 with over 700 likes. Full disclaimer, the leaf was not already on the bench…I put it there. I hope that doesn't destroy the magic! When walking past this bench in Greenwich Park I came across this giant leaf and had the idea of using the lines on the bench to create an image. 
Using my trusty Fuji X-T3 and 16-55 f2.8, I positioned the leaf and shot it at f2.8 to maximise the depth of field. The Leaf has a nice shallow depth to it and the lines lead you out to the blurred autumn colours of the park. Overall, I was quite happy with how it turned out.
With everything that has gone on over the last 12 months I had resigned myself to not achieving much photography wise. But having gone back through my goal post from last year I have been pleasantly surprised.
Photograph the Milky Way from Kielder Water
As you've seen from my favourite photos of the year, I finally achieved this one. Living in London does make it hard to get here regularly, so this one has ben three years in the making. But this year had the added Covid-19 bonus. On previous years all I'd be hoping for is good weather. This year I was hoping for that but also that things wouldn't get to the point where we'd go into national lockdown over the trip. Thankfully that wasn't the case and allowed us to visit the area and finally get the photograph.
This has been a massive fail on my part. I had originally aimed to publish at least one blog post a month and even created a content plan. But I found myself unmotivated at the beginning of the year and then Covid hit which changed everything. Suddenly, like almost everyone else, I found myself working from home and in complete lockdown. And this is still the case right now. You might think that is an ideal situation for getting more writing done, since there isn't much else to do. I actually found it the opposite. Finding separation between work and my home life became hard mentally.  I can close the laptop at the end of the day, but if I want to work on my blog I am now writing in the same room, sat in the same chair I just spent the last 9 hours in. I've been working to overcome this by dedicating small amounts of time daily to write. So far it has helped me write this post and plan at least another 10 for this year.
I've had this website for just shy of two years, but I've never truly been 100% happy with how it looked or functioned. One of my big plans for 2020 was to do a complete redesign of the site from the ground up. I wanted something that was modern looking, had great gallery features, and that could support an e-commerce store. I initially flirted with SquareSpace and signed up to their trial and was initially impressed. The idea of having everything available in one package without the need for plugins was quite compelling and it seemed relatively intuitive to use.
But after spending more time with it, I found it more limiting and not overly easier to use than WordPress. And that's before I get into the fact it costs nearly 3 times as much as my current site (and has no free business email). Because of this I decided to doubled down on WordPress. I started to look for a more modern theme and took the time to learn things such as WooCommerce and offline WordPress development.
The latter was really a life saver in getting the entire site done quickly and with no impact on my existing site. Without going into much detail on here (I'll save that for its own post), I used a development platform called MAMP to create an offline WordPress environment. This meant I could develop the entire site offline from start to finish. Once I was happy with it, I created a backup and the process of restoring it to my web host was seamless. It was live within minutes. I am really happy with how it turned out, and now it has the bones for me to continue building on in the future.
A big part of the website redesign was the creation of a print store. When I updated the website a year before I made the mistake of choosing a theme (Photocrati) which had a built in e-commerce feature. I thought this would make it easier to build compared to something like WooCommerce. 
But now I've spent the time to understand it and get things set-up myself, I should have done this a lot earlier. For one thing it means my site is theme agnostic, so should I need to change in the future my store should not be hugely affected. Secondly, WooCommerce can be linked to other websites to easily create shops which link to products on your site. This isn't something I've done yet, but something I am considering in the future, especially for platforms like Facebook and Instagram.
So far I've made 11 of my favourite photographs available as Limited Edition prints in three sizes (A2, A3, and A4). Each photograph is printed on Canson Baryta Fine Art Paper (Museum Grade) and comes in either a presentation box or tube along with a certificate of authenticity. If you want to take a look for yourself, you can find my store here.
Let's get on to this year, and boy is it going to be a biggie. And not just for my photography either. This year is going to be one of significant changes, some of which I can't talk about just yet. But once the time is right, you can be sure I'll be writing about them here.
Unfortunately, the idea of "build it and they will come" doesn't apply to the internet. While creating the print store was one of my big goals from last year, selling one of them is a goal for this year. One of the things I tried last year to achieve this was Instagram and Facebook marketing. If you are thinking of paying for ads on either platform, let me save you some money. Don't. 
While both did give me a large number of visitors to the store, none converted into any purchases. Yes it could be that my prints are not diverse/good enough and possibly priced too high. But the more I thought about it, the more I realised this type of marketing isn't the best avenue. Whenever I see an ad on Instagram/Facebook I am usually scrolling through my feed to see what's going on. I am not on there looking to buy something. So when I or anyone else sees an ad, it's not something they are searching for. Their propensity to buy is low and as a result you, me or anyone else is essentially pissing money up a wall. 
This year I am going to be more focused on creating new content to increase the number of visitors to the website. More visitors that are searching for what is on my site can only be a good thing, not just for print sales, but for the website as a whole. 
Publish a Minimum of 1 Blog Post a Month
I know, I know. I said I would do this last year. But this time I have a plan. My aim, as with most of my posts, is to share what I am learning. But also to give you some insight into me as a person and photographer. I've been thinking long and hard about what I've learnt that I can pass on, as well as figuring out what beginners want to know the most. Through this process I've put together a list of 20-30 post ideas and have already begun to plan a number of them. This should give me more than enough content to meet this goal, if not exceed it. If there are any topics that you would like me to cover, please drop them into the comments below.
Photograph the Southern Lights
With the vaccine roll outs getting under way, I'm hoping by the middle of the year that life will begin to look like we remember it. If so, we've got a big trip to Australia (and Tasmania) planned for the middle of the year. While everyone knows about the Northern Lights, the Southern Lights don't seem to get the same attention. That is probably because they are much more difficult to see in comparison with Antarctica being the most probable place to see them. With that being said, it is possible to see them from Tasmania from April – September and with our trip planned for July, this should be prime time. 
Publish Monthly Photowalk Posts
As part of my plan to post more content, I'm planning to put together a series of monthly photo walk posts. One of my big regrets since moving to London years ago is that I haven't really taken advantage of it photographically speaking. To combat that I'm planning to go on photo walks in different parts of London with the idea of creating a series of photos to capture the walk and area. With Covid-19 restrictions currently still in place in London, it may be a month or two before I can get this started.
Photograph the Milky Way from Australia
While on our trip to Australia I absolutely want to take advantage of the easily accessible dark skies. Unlike the UK, dark skies are much easier to come by in Australia and won't require 8+ hours of driving from London to reach. As well as that, the Milky Way gets much higher in the sky in the Southern Hemisphere compared to the Northern Hemisphere which should make for some amazing photographs. Using what I've learnt so far from my other trips, I'm hopeful of getting some great images which I'll certainly be posting here.
That brings me to the end of this post. I hope you all continue to stay safe and healthy, and as always if you have any questions or comments, please leave them below.
Phil
The blog is something I write in my spare time as a way of sharing my photography and what I am learning with the world. Unfortunately, running this blog isn't free but something I pay for. So, if you have enjoyed this content and have found it useful there are a number of ways that you can help support the blog. With your support I can keep producing content like this.
Amazon Affiliates – I am part of the Amazon Affiliates program which means if you follow my affiliate links and make purchases on Amazon, I made a small commission at no cost to you. If you need to purchase anything from Amazon, please use my links to Amazon UK and Amazon USA.
Buy a Print – I've made a small selection of my images available as prints which can be purchased here. Each print is produced on Fine Art photo paper and comes signed and numbered.
Make a Donation – If none of the above appeal to you, then you can make a small donation via PayPal here.